IN THEIR OWN WORDS…
It's records like "Keeping It Simple" that have made it enjoyable to host a daily afternoon show for the last 20 years. You and Adam deserve kudos for such a wonderful recording. Eric Cohen, WAER, Syracuse

Her voice is a bell-clear thing of beauty, playful, nuanced, and able to effortlessly convey emotion.
GLEN STARKEY, SLO NewTimes
AUGUST
Thursdays: August 2, 9, and 30 – 6:30 to 9:30 p.m.
La Bellasera Hotel and Restaurant, Paso Robles
Judy Philbin with Adam Levine, guitar, Mike Swan, bass
No charge
SEPTEMBER
Friday, September 14, 5:30 to 8:30 p.m.
Sunset in the Vineyards
Wolff Vineyards, Edna Valley, SLO
Judy Philbin with Brett Mitchell, keyboard
No charge
OCTOBER
Central Coast Follies – A Little Off Broadway!
In Time Trio
October 5: 7 p.m. / October 6 and 7: 3 p.m.
Fremont Theatre, San Luis Obispo
DECEMBER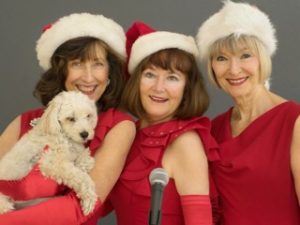 Friday, December 7, Noon
In Time Trio at the Brown Bag Concert Series
First Presbyterian Church, Corner Marsh and Morro Streets, SLO
No Charge
Sunday, December 9, 4:00 p.m.
The In Time Trio (Becky Robinson, Kit Johnson, Judy Philbin) brings you an afternoon of Christmas joy. Their tight harmonies and sassy moves bring to life some of America's best loved holiday sounds!
D'Anbino Tasting Room, 710 Pine Street, Paso Robles
General Admission $15, Wine Club Members $10
(Wine and charcuterie plate available for purchase)
Call D'Anbino (805) 227-6800 to reserve your seat
PAST EVENTS:
Sunday, May 6, 4:30 p.m.
The In Time Trio (Becky Robinson, Kit Johnson, Judy Philbin) brings you an afternoon of pure entertainment and fun. Their tight harmonies and sassy moves bring to life some of America's best loved songs from the Andrews Sisters to the Pointer Sisters, including big band, Rat Pack, Motown, Disco and more!
D'Anbino Tasting Room, 710 Pine Street, Paso Robles
General Admission $10, Wine Club Members $5
(Wine and charcuterie plate available for purchase)
Call D'Anbino (805) 227-6800 to reserve your seat
Sunday, November 5, 3 p.m.
North SLO County Concert Association Series
With Dawn Lambeth
Trinity Lutheran Church, 940 Creston Rd., Paso Robles
$20 – Tickets at the door or call 805 239-2770 for reservations
www.nslocca.org
Sunday, June 11, 2 p.m.
It's All About the Journey! Songs of travel and inviting destinations
Featuring the In Time Trio and members of the Human Nation band
Unity Church, 1130 Orcutt Road, SLO
Tickets: $15 general (Cash or checks only, please!)
Available at the door
Reservations: Call 543-4250 or email: JudyPhilbinMusic@gmail.com
Tuesday, February 14, 5:30 to 8:30
Blue Moon Grill, 810 11th St, Paso Robles
With Les Beck
Join us for the 'In Time Trio Christmas Show!'
From the 'Andrews Sisters to the Pointer Sisters', let us warm your heart this holiday season!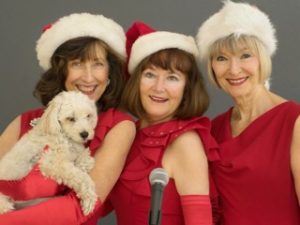 Friday December 2, Noon
Brown Bag Concert Series
First Presbyterian Church, Corner Marsh and Morro Streets, SLO
No Charge
Friday, December 9, 7:30 p.m.
Cambria Center for the Arts
1350 Main St, Cambria, CA
Tickets: brownpapertickets.com

Sunday, December 18, 3 – 4 p.m.
San Luis Obispo Museum of Art
1010 Broad Street, SLO
Tickets and information: www.sloma.org
Friday, August 19, 5:30 to 8:30 p.m.
Sunset in the Vineyards
Wolff Vineyards, Edna Valley, SLO
No charge
Friday, June 10, 5:30 to 8:30 p.m.
Sunset in the Vineyards
Wolff Vineyards, Edna Valley, SLO
No charge
Fridays/Saturdays, April 1, 2, 8, 9 (All shows 7 p.m.)
"That Rhythm Thing" – An original musical
Staged at Oak Park Christian Church, 386 N. Oak Park Blvd, Grover Beach
$20 – Tickets at the door or www.BrownPaperTickets.com
A portion of the proceeds will benefit the homeless shelter
Thursday, April 7 (Private Party)
Encore Trio
Sunday, April 17, 3 p.m.
North SLO County Concert Association Series
With Adam Levine, guitar, Bill Wingfield, bass, Daryl Vandruff, drums, Paul Burkle, piano
$20 – Tickets at the door or call 805 239-2770 for reservations
www.nslocca.org
Wednesday, February 10, 7 p.m
Cambria Couples Dance Club
Joslyn Recreation Center, Cambria, CA
Thursday February 11: 6:30 to 9:30 p.m.
La Bellasera Hotel and Restaurant, Paso Robles
with Adam Levine, guitar, and Mike Swan, bass
Sunday, February 14, 4 pm
Jazz Vespers
with Adam Levine, guitar, Keegan Horseman, bass
First Presbyterian Church, SLO
Corner of Marsh and Morro Streets
Music and inspirational message
Friday, December 4, Noon
With In Time Trio
Brown Bag Concert Series
First Presbyterian Church, Corner Marsh and Morro Streets, SLO
Free
Thursday, December 10, 7 pm
Featured soloist w/ Allan Hancock Jazz Band
Chapel of Light Unity Church
1165 Stubblefield Road, Orcutt, CA
Friday December 18, 1 p.m.
Parkinson's Support Group
With In Time Trio
Madonna Inn, SLO
Friday, December 18, 3:30 p.m.
With In Time Trio
The Manse, San Luis Obispo
Sunday December 20, 4 p.m.
Community Christmas & Holiday Sing-Along
With In Time Trio
Clark Center, Arroyo Grande
Central Coast Follies – California Dreamin'!
Fridays, October 2 and 9: 7 p.m.
Sat/Sun, October 3, 4 and 10, 11: 3 p.m.
Clark Center, Arroyo Grande
Saturday, October 24, 5:45
Guest Soloist, Allan Hancock Jazz Band
Pismo Jazz Jubilee by the Sea
Pismo Beach, CA
Wednesday, October 28, 7 p.m
Cambria Couples Dance Club
Joslyn Recreation Center, Cambria, CA
Thursday, October 29, Noon
Honoring WWII and Korean War Veterans
Madonna Expo Center
with Rebecca Robinson
Wednesday, August 26, 7 p.m
Cambria Couples Dance Club
Joslyn Recreation Center, Cambria, CA
Sunday, August 23
Peace Lutheran Church, Arroyo Grande, CA
Saturday, August 15: 5 to 8 p.m.
Asuncion Ridge Tasting Room, Paso Robles
with Adam Levine, guitar
Sunday, June 12
Private Event, San Luis Obispo, CA
Wednesday, June 24
Private Event, San Barbara, CA
Saturday, May 9, 5 to 8 p.m.
Asuncion Ridge Tasting Room, Paso Robles
with Adam Levine, guitar
Sunday, May 17, 3 p.m.
Featured Soloist, San Luis Chamber Orchestra
Trinity United Methodist Church, Los Osos
Duke's Place: an original musical review featuring music of Duke Ellington
Pewter Plough Playhouse, Cambria CA
Fridays, Saturdays, Sundays / through January 18
www.PewterPloughPlayhouse.org
Wednesday, January 28, 7 p.m
Cambria Couples Dance Club
Joslyn Recreation Center, Cambria, CA
2014
Saturday, November 22
Alta Colina Winery, Paso Robles
with Adam Levine, guitar
www.altacolinawine.com
Saturday, September 27, 7:30 p.m.
with San Francisco pianist Keith Saunders
Jazz a la Mode!
Private home in San Luis Obispo
$65 – Benefit for the San Luis Obispo Symphony
Contact: SLO Symphony – 805-543-3533
Friday, September 19, 5-7 p.m.
Burbank Ranch Tasting Room and Bistro
With Adam Levine, Guitar
1240 Park St, Paso Robles, CA 93446
www.BurbankRanch.com
Sunday, September 14, 1-4 p.m.
With Adam Levine, Guitar
Picture Perfect Sundays
No charge. Wine and food available for purchase
StillWater Vineyards, Templeton
Friday, September 5, noon
Brown Bag Concert
981 Marsh Street, SLO
No charge

Sunday, August 24, 3 p.m.
San Luis Obispo Museum of Modern Art
With Adam Levine, Guitar
Tickets and Information: SLOMA
Sunday, June 29
Private Party, San Luis Obispo
Friday, May 30, 5-7 p.m.
Burbank Ranch Tasting Room and Bistro
www.BurbankRanch.com
Wednesday, May 7, 7 p.m.
House concert in San Luis Obispo
Adam Levine, guitar
Information and reservations: 805-439-2015
Wednesday, April 23, 7 p.m
Cambria Couples Dance Club
Joslyn Recreation Center, Cambria, CA
Saturday, April 19, 3 p.m.
House concert in San Luis Obispo
Adam Levine, guitar
Information and reservations: 805-544-0199
Friday, April 18, 5 – 7 p.m.
Burbank Ranch Tasting Room and Bistro
Adam Levine, guitar
1240 Park St, Paso Robles, CA 93446
www.BurbankRanch.com
Saturday, February 15, 7:30 p.m.
Jazz Federation Concert Series
Unity Church, 1490 Southwood Drive, San Luis Obispo, CAWith Jazz Vocalist Dawn Lambeth and 5-member band
$20 public/$15 Jazz Fed members
www.slojazz.org
Friday, February 14, Private Party
San Luis Obispo, CA
Sunday, February 2, 2 p.m.
2014 Chamber Concert Series
Adam Levine, guitar and Ken Hustad, bass
Unitarian Church, 2201 Lawton, San Luis Obispo, CA
$20 (805) 439-0188 or BrownPaperTickets.com
Saturday, January 11, 7:30 p.m.
D'Anbino Tasting Room
Adam Levine, Guitar/Bill Wingfield, bass/Daryl Vandross, drums
710 Pine Street, Paso Robles, CA
$10 / $5 wine club members
Danbino.com
2013
Wednesday, December 11
Madonna Inn BallroomPrivate party
Sunday, November 19, 4 p.m.
Steynberg Gallery
Adam Levine, Guitar/Bill Wingfield, bass/Daryl Vandross, drums
1531 Monterey Street, San Luis Obispo, CA
$15 – Steynberggallery.com
Saturday, September 29, 7:30 p.m.
Templeton Performing Arts Center, Templeton, CA
With Jazz Vocalist Dawn Lambeth and 5-member band
$15
www.templetonchamber.com